A&F Diversity, Equity, and Inclusion
More than ever before, the Division of Administration and Finance must affirm its commitment to cultivating an equitable, diverse and inclusive campus environment. Now is the time for us to come together as a division and take meaningful action against injustices within our communities and campus. As we embark on a journey to overcome great challenges, we are also presented with an opportunity for self-reflection on how our individual efforts can bring about a true culture change.
The first step in our journey was the creation of the Administration & Finance Diversity, Equity, and Inclusion Plan (A&F DEI plan), which provides a framework with a focus on educating ourselves, engaging in discussion, building relationships, and continually assessing our efforts to ensure progress is made. Given the variety of functions and the diverse workforce within our division, the plan allows each unit the flexibility to implement strategies and initiatives, some of which staff members will be asked to lead.
This is a huge endeavor that will take time and continue to evolve. Success will require the support and effort from all members of the Admin & Finance family. The A&F Senior Leadership team looks forward to engaging with all members of the division to openly recognize and address our areas for growth and overcome any challenges or resistance. We are committed to fulfilling the vision and goal of our DEI plan by creating an inclusive organization, designed to celebrate the unique value of each team member.
A&F Diversity, Equity, and Inclusion (DEI) Plan
In collaboration with HRDI, the Division of Administration and Finance developed a plan in support of the Titans Together initiative with the implementation of strategies and actions to complement campus-wide efforts. View the full A&F DEI Plan here


.
Vision
In addition to paving the road to student success, the division of Administration and Finance is also committed to and accountable for advancing diversity, equity, and inclusion through continual assessment and improvement of policies and practices. We further commit to continuously develop an inclusive environment where employees among all identity groups feel valued and have a voice as participants in decision-making processes.  Our commitment to ensuring student success is parallel to creating an inclusive organization for all.
Goals
Raise awareness and knowledge of the importance of diversity, equity practices, and inclusive actions
Instill cultural changes that would elevate the sense of diversity, equity, and inclusion among our staff, customers, and campus community.
 A&F DEI Working Group & Assessment
A&F DEI Working Group
Initial planning efforts included the creation of the A&F DEI Working Group, which consists of Admin and Finance Senior Administration Team (AFSAT) members and one direct report to gather diverse perspectives from across the division. The working group is responsible for the planning, monitoring and evaluating of diversity initiatives and programs for the division. Meetings are scheduled every three weeks to discuss plan progress and share updates regarding DEI activities at the department/unit level.
Assessment
In spring 2020, an assessment was conducted using the Multicultural organization development (MCOD) model to establish a baseline for the division. The MCOD model provides a framework of six stages which identifies indicators of inclusion, equity, and diversity to guide goals for change and appropriate interventions to progress through each stage of development.
Current Status – Stage 1: The division is currently at Stage 1 – The Exclusionary Organization, with 7 of the 18 strategic actions remaining to progress to Stage 2 of the model. The A&F DEI Working Group has developed a A&F Strategic Actions Plan to complete the seven remaining strategic actions to progress from Stage 1 to Stage 2.
Division Goal – Stage 6: The division is committed to working towards the aspirational goal of Stage 6 – The Multicultural Organization. While there are no known organizations that have achieved Stage 6, the division will continue to work towards the vision of becoming an inclusive, diverse, and equitable organization.
A&F DEI Strategic Action Plan
In summer 2020, the A&F DEI Working Group completed a visioning exercise to go through the remaining seven strategic actions of Stage 1. The A&F DEI Strategic Actions Plan


outlines specific strategies and methods to address the following strategic actions the division will complete to progress to Stage 2:
Strategic Action: Engage in coalition building ~ develop relationships with other change agents across identity groups
Strategic Action: Build a shared understanding of the current exclusionary practices and oppressive behaviors
Strategic Action: Increase visibility of leaders reinforcing their commitment to create a safe, inclusive organizational environment
Strategic Action: Identify and communicate clear expectations and boundaries for appropriate behavior and clear responses for inappropriate behavior* (Jackson & Hardiman)
Strategic Action: Create structures to ensure all organizational members understand the rules for expected behavior in the organization and the consequences of exclusionary actions, negligence, and workplace harassment.
Strategic Action: Continually monitor and report on efforts and outcomes to create greater safety for all groups in the organization.
Strategic Action: Build internal networks across the institution: Human Resources, Legal advisers, EEO/AA, Ombuds, union leaders, Board members, employee resource groups, etc.
Division and Department Efforts
The A&F division is continuously working on DEI activities at both the division and unit levels. Listed below are a few of those DEI efforts.
2020 A&F DEI Efforts: Members of the A&F DEI Working Group finalized a 2020 A&F DEI Efforts


summary document, which provides a high-level overview of the division's collective efforts and progress made in 2020.
One Book, One CSUF Program:
2021-22 - They Called Us Enemy: As of November 22, 2021, 183 A&F employees are reading the They Called Us Enemy, by George Takei book! A total of 13 department reading groups have launched with some activities proceeding in the spring 2022 semester.
2020-21 - The Book of Unknown Americans: More than 140 managers, staff, and student assistants participated in the One Book, One CSUF Program by reading The Book of Unknown Americans. Department reading group discussions and activities are continuing in spring 2021.
Inclusion Champion Certificate Program (ICCP): As of June 3, 2022, 52 A&F employees (14 Managers and 40 Staff) are currently participating in the Inclusion Champion Certificate Program (ICCP). Since the launch of ICCP in 2020, 64 A&F employees (25 Managers and 39 Staff) have completed the program and received their Inclusion Champion certificate! Here is a list of A&F's Champions of Inclusion


.
Conducting Equitable and Inclusive Searches (CEIS)
As of January 2022, 157 A&F employees completed the Conducting Equitable and Inclusive Searches (CEIS) training to learn strategies and techniques to create a more equitable and inclusive search process. 

Diversity Education for Leadership: In March 2021, more than 50 A&F managers participated in a DEI engagement session with Project Rebound

. Managers were provided an overview of Project Rebound and the population the program serves, and discussed how the division can further support their scholars.
A&F Employee Demographics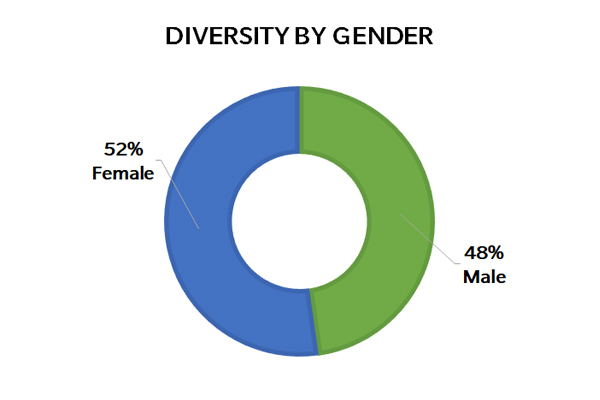 as of June 2020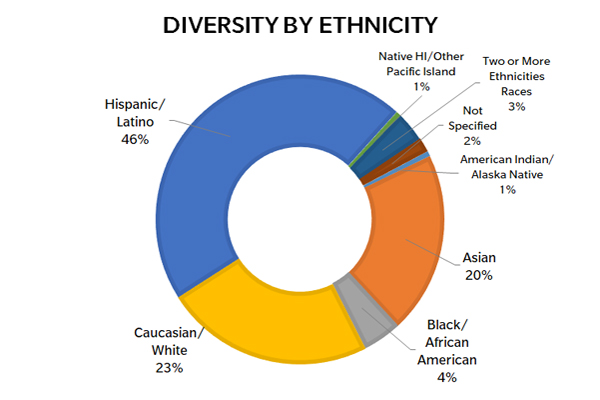 as of June 2020